Seaham Safety Services Ltd performance-based approach to fire safety engineering rises to the challenge of modern architecture and the design of all types of structures.
We provide fire safety engineering solutions to assist in the protection of people and their environments from the destructive effects of fire and smoke. We employ professionally qualified and experienced Fire Protection Engineer specialists who are Members of the Institution of Fire Engineers (MIFireE). We assist our clients in identifying risks and design safeguards that aid in preventing, controlling, and mitigating the effects of fires.
To do this, our fire safety engineering consultants assist architects, building owners and developers in evaluating buildings' life safety and property protection goals. We also provide 3rd party reviews' for performance based fire engineering solutions that are required to be submitted in support of local building regulation applications.
Our organisations' fire protection engineering specialists  take a collaborative approach to building design, often working with architects to help to create stunning and safe buildings. Our innovative, cost-effective solutions meet all regulatory requirements and safety standards.
Fire science, human behaviour and an understanding of risk are also fundamental to the design of major infrastructure projects such as new airport terminal buildings cross city road tunnels.
Added value
Seaham Safety Services Ltd team of fire protection engineering specialists offer a diverse range of services appropriate to clients' needs, in line with specific codes and standards and consistent with the local authority approval process. Services include code consultancy, research, fire safety inspections, specialised fire safety design, fire risk assessment and litigation support.
At Seaham Safety Services Ltd., we perceive fire protection engineering as being a fundamental part of multidisciplinary design for buildings and infrastructure.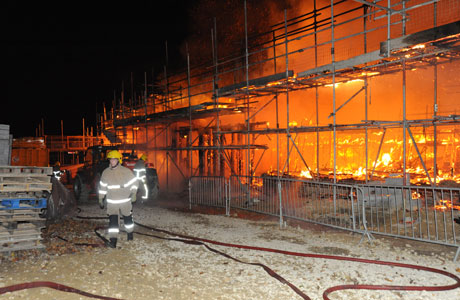 Recent site fire in Stanley Co. Durham
If you are interested in discussing fire protection engineering with one of our experienced fire safety engineering consultants, give our team a call on 0844 225 0575.