The Construction Skills Certification Scheme (CSCS) is making changes for obtaining a Green Card (Labourer Card). These new requirements being introduced from July 2014 state that along with the CITB Health, Safety and Environment (HS&E) Test, a qualification (or alternative) must be achieved in order to apply for the Green Card.
Overview
In Autumn 2013 CSCS Chief Executive Graham Wren said,
"CSCS was established to provide the industry with a means to verify the competence of workers on construction sites. Misuse of the current Entry Level Green Card diluted the effectiveness of the scheme, and led to confusion whether CSCS Cards were purely a passport to gain access to a site, or a true measure of an individual's competence to carry out their job. The new Green Card will set a standard for all those working as a labourer. Our aim is to set the standard at a level that demonstrates a worker's knowledge and understanding of basic health and safety issues, without it being prohibitive in terms of time and cost. Content covered in the new qualification follows the recommendations in the Pye Tait Report published in 2011 relating to routes to competence in the construction industry."
Cskills Awards have two routes available for obtaining the Green Card; a QCF qualification or the Site Safety Plus Health and Safety Awareness Course, which CSCS view as an alternative to the qualification.
Differences between QCF Qualification and Site Safety Plus Routes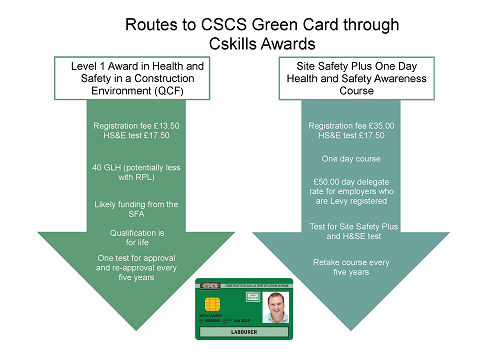 QCF Qualification Route
To fulfil the required training elements, we have launched the Level 1 Award in Health and Safety in a Construction Environment (QCF) (AWD057) (41 KB, PDF). This qualification is live for registration, and the assessment includes the demonstration of how each Learning Outcome has been met (formative assessment), as well as a Specialist Labourer HS&E test. Learners won't need to sit an end qualification test separately, as this is combined. There will be two results, one for the qualification and one for the HS&E Test (both have to be passed for the Green Card to be issued).
Site Safety Plus Route
CSCS have accepted the Site Safety Plus Health and Safety Awareness (one day) Course as an alternative to the QCF qualification.
This course aims to ensure that individual responsibilities are understood;
Why delegates are carrying out their identified duties
What is expected of delegates
Ensuring delegates contribute to the safety of the workplace.
The course is supported by the New Window Safe Start (GE707) publication, and there is an end of day examination. The certificate has a five year life, and the Green Card can be applied for as long as the certificate is in date at the point of application.
Route comparison
 
QCF route
Site Safety Plus route
+

Qualification for life
Possible funding available

 

Needs to be refreshed every 5 years meaning that knowledge is refreshed and updated
Cheaper than the QCF route
The course, HSE test and CSCS card can be achieved and applied for in one day
£50 CITB attendance grant available subject to status

–

Longer qualification meaning more down time
No refreshers training to update and refresh knowledge
More expensive than the Site Safety Plus route

 

Needs to be refreshed every 5 years meaning recurring costs and down time.

=

CSCS green (labourer) card need to be renewed every 5 years
Upon renewal employees must have passed the Health, Safety and Environmental test within the last two years.
Costs
All costs are per person and are exclusive of VAT. Please note that a minimum of 4 delegates are required for the Site Safety Plus or QCF qualifications.
Site Safety Plus Route                          – £120
QCF Route                                             – £450
HSE Test service (If required)           – £30
CSCS Card application service           – £40
How we can help
Seaham Safety Services is accredited by ConstructionSkills Awards to deliver both the QCF and Site Safety Plus routes. We are also in the process of registering to become an ITC centre. This means that we will be able to fully assist and support you through the whole CSCS process.
We can also assist you with ensuring your employees obtain the correct CSCS card for their occupation as we are accredited to delivery various construction NVQs from level 2-7.
Contact us now on 0191 581 8400 for further information or for CSCS assistance.